Samsung 11.5 Inch Microwave Turntable Tray Part DE74-20102B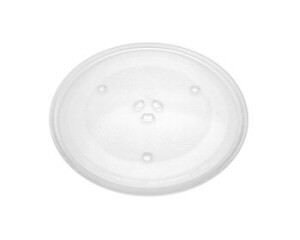 This Samsung brand 11-1/2 inch microwave replacement glass turntable plate is compatible only with the Samsung Microwave Oven Models listed below.
This glass replacement tray represents Samsung Part No. DE74-20102B and is an original equipment manufacturer's (OEM) part.
\
Please consult the tips on this website's Home Page for direction on how to find your specific model number.
If you do not see your model below, contact Samsung directly through their Customer Support Department HERE.
You can also send us an email through our Contact Page and we will help you find the model you need — if not offered on our website.
\
This glass turntable will only fit the Samsung Microwave Oven models listed below. If you are unsure about compatibility please email us with your model number before ordering this glass turntable.
Samsung Microwave Oven Models for this Plate
MW880GRA MS840BB MW880RSA MW880KSA MW735WB MS840WB MW4291G WMW17779 MW4572W MW4592W MW3090W MU3090W MU4274W MW4370W MU4270W MU4290W MW4371G MW4390W MW4688BA MW830WA MW4271G MW4273G MW4391G MW880BSA MW830BA MW3560W MW4699S MW4070W MU4291G MW4573G MR4371G MW4593G MW4350W MW4351G MD4301G MW4552W MW4251G MR4381G MW888STB MW725WB MW4270W ME4190W M1732NK MD4300W M1732N MW4071G MW4291G WMW17779 MW4271G MR5371G MU4290W MW4390W MW4391G MW4273G MW4699S MW4593G MR4371G MU4291G MD4301G MR4381G