Choosing a Microwave Turntable Plate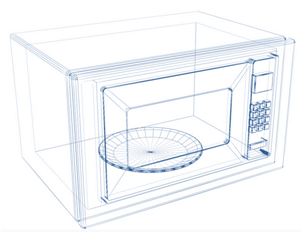 If you're looking for a microwave turntable plate replacement, you've come to the right place. Welcome to MicrowaveTurntablePlate.com where we will help you make the right selection.
We'll even go one step farther — if you can't find a microwave replacement plate on this website, then we'll help you find one from a competitor — if it is available.
\
Choosing a replacement microwave plate can be confusing when you're looking for a great deal. While it is fairly easy to just visit the site of the brand manufacturer for your microwave oven, the costs for replacement parts through their websites are often up to 50% higher than you can get elsewhere.
With that said, you cannot simply attempt to replace, for example, a 12-inch microwave turntable plate with any 12-inch plate. While it does not need to be from the manufacturer — there are plenty of aftermarket parts — it still needs to fit the signature configuration by that manufacturer to work.
\
Here are the key components that make a microwave glass plate assembly. These 3 separate parts, as noted in the image below, need to work in tandem with each other for your microwave plate to turn. How your replacement turntable sits on the roller and motor hub are critical — this is why, in the example above, a 12-inch glass plate will not work in all brands.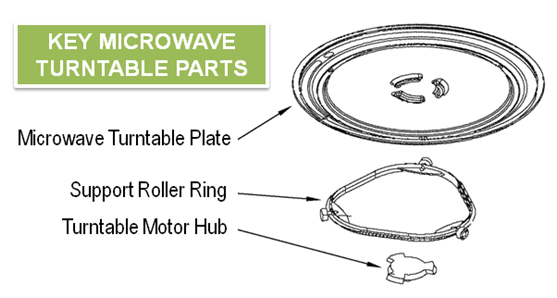 Microwave Brands Represented on this Website
Here are some of the major brands featured on this website. Choose the brand you are interested in by clicking on the logo below or in our navigation menu above. Some of the turntable replacement plates available through this website will work with other brand manufacturers as well. Be sure to note the brand compatibility and model of the microwave plate in the product description.
\
Choosing OEM or AfterMarket Replacement Plates
When buying through a manufacturer's website like GE for example you can be fairly confident you are purchasing an OEM or Original Equipment Manufacturer part. When purchasing through other internet sites, it is important to note whether you are getting an OEM replacement or a manufacturer's compatible replacement.
Great savings can be had when purchasing a compatible replacement plate for your microwave as long as the vendor states which models the plate is compatible with or provides enough detailed measurements (for the plate and the roller ring) so you'll know it will work with your glass plate assembly.
\
How to Use this Website
To find your turntable plate replacement you have several different options:
Locate the Part Number for the Microwave Turntable Tray in your microwave's Owner's Manual
Locate the Model Number of your Microwave Oven on the door or inside panel of your microwave
Choose a Manufacturer's Tab in our Navigation Menu and then choose the size microwave replacement tray you need (be sure to note the models that specific tray works with).
If you cannot find your manufacturer, or microwave plate size, then send us an email through our contact page. We answer all microwave turntable related questions in 24 hours or less. We respect your privacy and will never share your information. Use If we don't have your replacement glass plate, then we'll do our best to help you find one.
Microwave Turntable Not Working?
Check out this video below to see some of the most common reasons a microwave turntable doesn't turn. It may not be related to your turntable plate. If a microwave turntable not working is your issue, then see the video first before you buy.