Samsung 14.125 Inch Microwave Glass Plate Part DE74-20002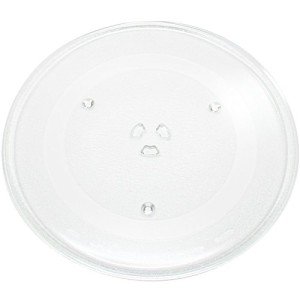 ---
SEE THE SAVINGS
$56.99
---
This Samsung Microwave Glass Turntable Tray measures approximately 14-1/8 inches and will only fit the microwave model numbers listed below. The outside diameter of the turntable support ring below it measures 10-1/8 inches.
This glass replacement tray represents Samsung Part No. DE74-20002 and is an original equipment manufacturer's (OEM) part.
\
Please consult the tips on this website's Home Page for direction on how to find your specific model number.
If you do not see your model below, contact Samsung directly through their Customer Support Department HERE.
You can also send us an email through our Contact Page and we will help you find the model you need — if not offered on our website.
\
This glass turntable will only fit the Samsung Microwave Oven models listed below. If you are unsure about compatibility please email us with your model number before ordering this glass turntable.
Compatible Samsung Microwave Oven Models
MB6774W, MC7698W, MG1344SA, MG1344WA

MC1360, MC1360WA, MG7696W, MG7920W, MG7980W

MR1351WB, MR1352BB

MR6471G, MR6472W, MR6481G, MR6482W, MR6483G

MR6698WB, MR6699GB, MR6699SB

MR7491G, MR7491G01, MR7492W, MR7492W01, MR7493G, MR7493G01

MS6785G, MS7796W, MS7796W01, MS7797G

MW6370W, MW6470W, MW6471G, MW6490W

MW6572W, MW6573G, MW6574W

MW6575G, MW6576W, MW6580W, MW6584W, MW6585G

MW6692W MW6692W01 MW6693G

MW7490W, MW7491G, MW7492, MW7493, MW7592W, MW7593G

MW7695GS, MW7896W, MW7897G

SMH7174, SMH7175, SMH7177, SMH7178STD, SMH7178STE

SMH7185, SMH7185BG, SMH7185STG, SMH7185WG

SMH7187, SMH7187STG

SMH9187, SMH9187B, SMH9187ST, SMH9187W

SMH9207, SMH9207ST, SMH1816S

SRH1230

WMW-18109

WMW-19109