Panasonic Part F06014T00AP Microwave Glass Plate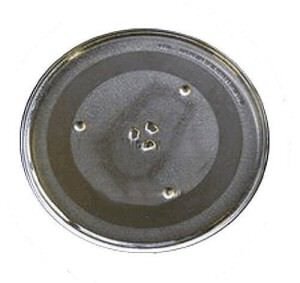 ---
SEE THE SAVINGS
$30.89
---
This Panasonic brand 13-1/2 inch microwave replacement turntable plate is compatible only with the Panasonic Microwave Oven Models listed below. This glass replacement tray is Part No. F06014T00AP.
Please consult the tips on this website's Home Page for direction on how to find your specific model number.
\
If you do not see your model below, contact Panasonic directly through their Customer Support Department HERE.
You can also send us an email through our Contact Page and we will help you find the model you need — if not offered on our website.
This glass turntable will only fit the Panasonic Microwave Oven models listed below. If you are unsure about compatibility please email us with your model number before ordering this glass turntable.
\
Panasonic Microwave Models for this Turntable Replacement
NNH504BF,NNH504BFR, NNH504WR, NNH504WFR
NNH624BF. NNH624BFR, NNH624WFR
NNH625BF, NNH625WF, NNH635BF, NNH635WF
NNH644WF, NNH645BF, NNH645WF
NNH664BF, NNH664MF, NNH664WF
NNH665BF, NNH665WF
NNL530BF, NNL530WF, NNL531BF, NNL531WF
NNS503BF, NNS503WF, NNS504BF, NNS504WF
NNS505BF, NNS505WF
NNS530BF, NNS530BFV, NNS530WF, NNS530WFV
NNS532BF, NNS532WF, NNS533BF, NNS533WF
NNS540BF, NNS540BFW, NNS540WF, NNS541BF, NNS541WF
NNS542BF, NNS542WF, NNS543BF, NNS543BFR, NNS543WF
NNS550BF, NNS550WF, NNS553BF, NNS553WF
NNS560BF, NNS560WF, NNS561BF, NNS561WF
NNS562BF, NNS562WF, NNS563BF, NNS563MF
NNS563WF, NNS592SF, NNS614WF, NNS614WS
NNS605WF, NNS615, NNS615W, NNS615WF, NNS615WFX
NNS634BF, NNS634WF. MMS635BF, NNS635WF
NNS644WF, NNS645BF, NNS645MF, NNS645WF
NNS654BF, NNS654BFB, NNS654WF
NNS655BF, NNS655WF, NNSA616WX
NNSA636W, NNSA646M, NNSA647B, NNSA647W
NNSD667, NNSD667S, NNSD688, NNSD688S, NNSD696S,
NNSD697S, NNSD698S, NNSN656S, NNSN657, NNSN657S
NNSN667, NNSN667B, NNSN667W, NNSN667WB, NNSN676S
NNT563SAF, NNT563SF, NNT583SF
NNT654SF, NNT655SF
NNT664SF, NNT664SFR, NNT664SFT, NNT664SFX, NNT665SF
NNT675SF, NNT685SF, NNT694SF, NNT695SF
Australian Model Panasonic Microwave Ovens
NNS552W, NNS554WF
NNS555WF, NNS564WF, NNS565WF
NNS573MF, NNS574MF, NNS575MF
NNS672MF
NNT584SF
NNSD686S
NNST656W, NNST666W, NNST669W
NNST657S, NNST657W, NNST677M, NNST676M
\