Panasonic Part A06015690QP Microwave Glass Plate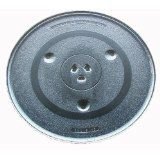 ---
SEE THE SAVINGS
$18.99
---
This Panasonic brand 12-3/8 inch microwave replacement glass turntable plate is compatible only with the Panasonic Microwave Oven Models listed below. This glass replacement tray is for Part No. A06015690QP.
Please consult the tips on this website's Home Page for direction on how to find your specific model number.
\
If you do not see your model below, contact Panasonic directly through their Customer Support Department HERE.
You can also send us an email through our Contact Page and we will help you find the model you need — if not offered on our website.
This glass turntable will only fit the Panasonic Microwave Oven models listed below. If you are unsure about compatibility please email us with your model number before ordering this glass turntable.
\
Panasonic Microwave Models for this Turntable Replacement
MQS0833E, MQS0833H, MQS0836E, MQS0836H, MQS0841E
MQS0851E, MQS0852E, MQS0853E, MQS0853H, MQS0856E
MQS0856H, MQS0963E, MQS1063E, MQS1063EV, MQS1063H
MQS1072E, MQS1075E, MQS1075H, MQS1085E, MQS1085H
MQS1087E, MQS1087H, MQS1095E, MQS1095H, NN5360
NN5360A, NN5405A, NN5425A, NN5455, NN5457LCL
NN5457LLT, NN5457LRPK, NN5460, NN5460A, NN5470A
NN5492A, NN5500A, NN5502A, NN5503A, NN5503P, NN5504A, NN5505A
NN5508LLT, NN5508LMX, NN5510, NN5510A, NN5515A
NN5520A, NN5523A, NN5525A, NN5530A, NN5535A, NN5555A
NN5558LLT, NN5558LMX, NN5560A, NN559BMX, NN559WMX
NN5603A, NN5605A, NN5615A, NN5635A, NN5653A, NN5655A
NN5700, NN5700A, NN5803A, NNE566BA, NNE566WA
NNL526BA, NNL536BA, NNL536WA, NNL537BA, NNL538BA
NNL538WA, NNN577BA, NNN577WA, NNN588BA, NNN588WA
NNS539WF, NNS546BA, NNS546BAV, NNS547BA, NNS547WA
NNS548BA, NNS548BAV, NNS548WA, NNS548WAV, NNS557BA
NNS557BAS, NNS557WA, NNS557WAS, NNS558BA
NNS558BAS, NNS558WA, NNS558WAS, NNS559BA
NNS559BALT, NNS559BAMX, NNS559WA, NNS559WALT
NNS559WAMX, NNS566BA, NNS566LA, NNS566WA, NNS567BA
NNS567BAS, NNS567LA, NNS567LAS, NNS567WA, NNS567WAS
NNS568BA, NNS568BAS, NNS568LA, NNS568LAS, NNS568WA
NNS568WAS, NNS569BA, NNS569BAS, NNS569WA
NNS569WAS, NNS576BA, NNS576WA, NNS586BA, NNS586WA
NNS587BA, NNS587BAS, NNS587WA, NNS587WAS, NNS588BA
NNS588BAS, NNS588WA, NNS588WAS