GE Microwave Glass Tray WB49X10176 Replacement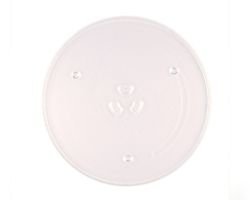 ---
SEE THE SAVINGS
$29.93
---
The 13-1/2 inch GE Microwave Glass Turntable Plate, Part No. WB49X210176 replaces Part Nos. WB49X10205 and WB49X10114 and will only fit the GE Brand Microwave Model Numbers that are specifically listed below.
This is an original equipment manufacturer's part meaning that it is made to the same specifications, standards and performance as the original GE microwave part.
\
Please consult the video on this website's Home Page for direction on how to find the specific model number on your microwave.
If you do not see your model below, you may contact GE Customer Support directly HERE.
You can also send us an email through our Contact Page and we will help you find the model you need — even if it's not on our site because we appreciate you taking the time to visit us.
\
The list of compatible models below is a partial list. GE makes replacement microwave plates for other brands as well.
PRICES FOR THIS TURNTABLE ARE SET BY THE SUPPLIER AND NOT THIS WEBSITE. PRICES WILL VARY BASED ON AVAILABILITY.
\
GE Microwave Compatible Models (Partial List)
JVM1653BH06
JVM1653WH06
JVM1665DN1BB
JVM1665DN1WW
JVM1665DN2BB
JVM1665DN2WW
JVM1665SN1SS
JVM1665SN2SS
JVM1630BH001
JVM1630BH002
JVM1630BH003
JVM1630BJ01
JVM1630BJ02
JVM1630BJ03
JVM1630CH001
JVM1630CH002
JVM1630CH003
JVM1630CJ01
JVM1630CJ02
JVM1630CJ03
JVM1630WH001
JVM1630WH002
JVM1630WH003
JVM1630WJ01
JVM1630WJ02
JVM1630WJ03
JVM1631BH001
JVM1631BH002
JVM1631BH003
JVM1631BJ01
JVM1631BJ02
JVM1631BJ03
JVM1631CH001
JVM1631CH002
JVM1631CH003
JVM1631CJ01
JVM1631CJ02
JVM1631CJ03
JVM1631WH001
JVM1631WH002
JVM1631WH003
JVM1631WJ01
JVM1631WJ02
JVM1631WJ03
JVM1640AH01
JVM1640AJ01
JVM1640AJ02
JVM1640BH001
JVM1640BJ01
JVM1640BJ02
JVM1640BJ03
JVM1640CH001
JVM1640CJ01
JVM1640CJ02
JVM1640CJ03
JVM1640SJ01
JVM1640SJ02
JVM1640SJ03
JVM1640WH001
JVM1640WJ01
JVM1640WJ02
JVM1640WJ03
JVM1790BK01
JVM1790CK01
JVM1790SK01
JVM1790WK01