Daewoo and E-Wave Microwave Glass Tray 3517203500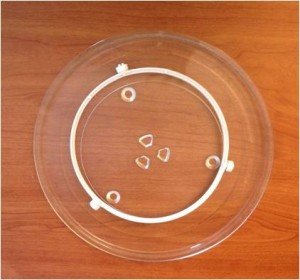 ---
Check Availability
$25.90
---
This is an 11-1/4 inch microwave glass replacement tray that will fit the E-Wave and Daewoo microwave models listed below.
This replacement plate is Part Number 3517203500. This is an original equipment manufacturer's (OEM) part for E-Wave models. The replacement part number may be found in your Owner's Manual, through the manufacturer's product support department online or by searching the internet by your specific microwave model number and brand.
\
You can locate you microwave oven model number either on the back of your microwave, just inside the door on a side wall or inside the door on the front facing panel.
Be sure to check out our Turntable Home Page to see how to properly measure a microwave turntable plate — this will ensure proper fit the first time when ordering a replacement.
\
If you do not see your microwave model below then you can always send us an email through our Contact Page and we will do our best to help you locate a source for a replacement in 24 hours or less.
Model Numbers fitting Part 3517203500
HMT8656GB/02, KOG390, KOG390A
KOG390ASL, KOG846, KOG864S, KOG867T9
KOR662K, KOR718TM, KOR810TM, KOR811M, KOR811Q
KOR811M, KOR811QM, KOR820M
KOR860A, KOR860A0A, KOR860A0A/1A
KOR860A0N, KOR860A0S, KOR860A1A
KOR867S, KOR868GSL, KOR1N0A
KOR8112, KOR8113, KOR8167